Traditional Chinese Medicine in Oxford
Traditional Chinese Medicine (TCM) is the blanket term used to refer to a broad system of traditional medical practise in China. It comprises of four main branches of TCM including Acupuncture, Chinese Herbal Medicine, Tui Na massage and Qigong. The term TCM was initially coined by colleges of medicine in modern china, in an attempt to unify the above systems under a common framework. Acupuncture and herbal practitioners in the West subsequently adopted the same term to convey the fact that they were practising under these same unified principles.
Although there remains a diversity of practise within the acupuncture profession in the UK and China, TCM offers a common foundation for sharing conventional practise. It enables practitioners to utilise a more systematic approach than was previously available. One of the big advantages of this system is that it equips practitioners with a broader repertoire of treatments with which to promote health and healing. Sometimes, only one treatment modality may be necessary, while at other times a combination may be prescribed to complement another. Different treatment methods can be utilised to address different aspects of a person's condition. Chinese herbal medicine for example can be prescribed for patients to take on a daily basis, meaning their treatment is supported between acupuncture sessions. Similarly, Tui Na might be offered as a viable alternative to those who are apprehensive of acupuncture.
Acupuncture
Acupuncture is the practice of inserting fine needles into specific points on the body to illicit healing, combat ill health and promote harmony and internal equilibrium. It is used also as preventative medicine; to help maintain health and wellbeing and to allay the onset or development of disease. For more information please visit the page What is Acupuncture?.
Chinese Patent Herbal Medicine
Prescriptions made by specialists of Chinese Herbal medicine are generally made up of a number of different herbs, but may also include roots, rhizomes, barks, fruit and flowers or shells and minerals. Individual herbs are commonly combined in defined quantities to create a formula. However, many of these formulae can be found in capsule form and are termed 'Chinese Patent Herbal Medicines'. Specialist in herbal practice will make additions or subtractions from the foundation formulae, to increase or decrease the dosage of a given herb according to the individual needs of the patient, whilst practitioners of Patent medicines are unable to do this. They may however combine a number of patent formulas at one time, or prescribe a selection of patents to be taken at different intervals. Patent formulae are often preferred by patients who have busy lifestyles or who are unable to tolerate the taste of traditional decoction. Patents are gentle, extremely safe and can make a very real difference to people's wellbeing.
Tui Na
Tui Na is perhaps the oldest of the four branches of TCM and is used to treat a range of illnesses and conditions. It is underpinned by the same theoretical framework as the other branches of TCM and thus utilises the same stringent diagnostic process. Its application is undertaken via the meridian system, the acupuncture points, organs as well as the body tissues. Although its techniques are frequently more vigorous than other more sensual schools of massage, the patient invariably encounters a sense of wellbeing and relaxation thereafter.
Qigong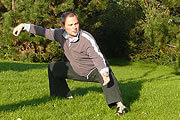 A full discussion on Qigong can be found under the section on T'ai Chi and Qigong in Oxford. Suffice it to say here that Qigong practice is the cultivation of Qi within an individual in pursuit of health and wellbeing. It is frequently practiced by Tui Na practitioners and acupuncturists wishing to sustain and enhance their disciplines and by the wider community in order to achieve and maintain their own health. TCM practitioners will also teach Qigong to their patients as part of an appropriate protocol.