Acupuncture in Oxford
The Iffley Acupuncture Clinic offers a comprehensive range of therapies including acupuncture, Tui Na massage, Chinese herbal medicine, and also health education in Chinese dietary therapy, nutrition, lifestyle and health promotion.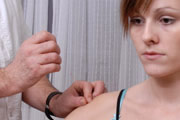 Situated on one of the main routes in Oxford, the acupuncture clinic is easily accessible and parking is available. We operate within normal working hours but also maintain some early morning, evening and weekend appointments. Prices are competitive and adjusted according to circumstances but also reflect the quality of treatment.
The Resident Oxford Acupuncturist
Jonathan Bruce the resident practitioner has been in service since 1987. He has in turn both a long-term experience of working with a wide range of people and an in depth knowledge and understanding of how best to treat them. Jonathan is a member of the British Acupuncture Council and in turn, bound by a code of safe practice and ethics. All members of the British Acupuncture Council carry full medical malpractice and public liability insurance. Jonathan also provides both private and public tuition in T'ai Chi and Qigong.
How to use this site
If you simply want some outline information, then explore the site by clicking on the relevant webpage headings to the left. If however you wish to explore the subjects at a deeper and more informative level, then you can access PDF documents from the given website pages, or alternatively go to the Document Downloads section.